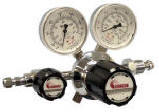 Single Stage or Dual Stage Chrome-Plated or Brass Specialty Gas Regulators
Single Stage
Chrome Plated Brass Body
Five Port Configuration
316L Stainless Steel Diaphragm
The regulators are intended for primary pressure control of non-corrosive, high purity or liquefied gases (up to grade 4.5) in applications where minor fluctuations in outlet pressure due to diminishing inlet supply pressure can be tolerated.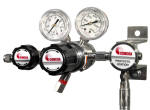 Protocol Station
Prevents Regulator Damage
Improves Safety
Brass or 316L Stainless Steel Construction
Maximum Inlet Pressure of 6000 PSIG
Includes Everything Shown Except Regulator. The 529 Series Protocol Station is a regulator option designed for the convenient wall mounting of any CONCOA high purity regulator. Wall mounting of a regulator provides ease of use, prevents regulator damage and improves safety.

Open Automatic Switchover with Stainless Steel Components
Automatic Switchover System
Ultra-High Purity Gas Service
316L Stainless Steel Components
The Automatic Switchover is designed to provide a continuous supply of ultra-high purity, corrosive gas. The system comes with either flexible pigtails for use with two cylinders or manifold connectors for use with the Maniflex Modular Manifold System. Due to pressure differential considerations, an integral line regulator is available to maintain constant downstream pressure.

Enclosed Automatic Switchover
Automatic Switchover System
Liquid Primary w/ High Pressure Reserve
316L Stainless Steel Components
Ultra-High Purity
The 536 Series AutoSwitch GL is a continuous gas delivery system for ultra-high purity gas service that is designed to automatically change cylinder or bank priority from a liquid cryogenic source to a reserve bank of high pressure cylinders without transmitting pressure fluctuations to the use line.

NEW IntelliSwitch
Automatic Switchover System
Cryogenic or High Pressure Supply
High Flow
On-Site Source Selection
Low Loss Technology
Microprocessor Control
The 539 Series Intelliswitch electronic switchover is CONCOA's next generation of gas management systems. The IntelliSwitch provides continuous gas supply from liquid cylinders, high pressure cylinders or a combination of the two allowing the end-user to select the most economical mode of gas supply by the touch of a button. Microprocessor control lowers yearly gas cost by eliminating liquid cylinder vent loss and excess residual return, which makes the IntelliSwitch the perfect choice for laboratory, pilot plant or process applications.